This is the transcript of the Markets Live session ending at 12:03 on 29 Jan 2013. Participants in this session were: Paul Murphy Bryce Elder
PM
AV's daily markets chat
Block
PM
With Bryce and myself
Block
PM
Bit of media navel gazing to day in terms of our portrait….
Block
PM
Block
PM
That's Damien Reece,
Block
BE
Head of Business for the Telegraph Media Group.
Block
PM
Formerly the Telegraph's head of business or City Editor in old parlance
Block
PM
Iced yesterday, rather suddenly.
Block
PM
Told it was a string of factors.
Block
PM
Series of departures from his team
Block
PM
Then there was the Stemcore affair
Block
PM
Margaret Hodge's family company pays just 0.01pc tax on £2.1bn of business generated in the UK
Margaret Hodge, chairman of the Public Accounts Committee, is facing embarrassing revelations over the tax affairs of her family company just days before she is due to lead the grilling of US companies over controversial tax arrangements.
Block
PM
Which was followed by this:
Block
PM
Margaret Hodge MP – apology
Margaret Hodge MP – Contrary to our report "Hodge faces challenge over family firm's taxes" (Nov 20), Stemcor, in which Ms Hodge has a small shareholding, has not abused transfer pricing to avoid tax. We accept that there is no inconsistency or hypocrisy in Ms Hodge criticising other companies for tax avoidance and apologise to her for any contrary impression.
Block
PM
Damien was blamed for that
Block
PM
And then there was something else which I haven't quite got to the bottom of.
Block
PM
Something about a firm the telegraph was partnering with – and Damien's relationship with the firm.
Block
PM
But that's unconfirmed – no detail and I'm sure it is 100% innocent.
Block
PM
But Damien has been iced
Block
PM
Called in to the editors office at 3pm and not seen again.
Block
PM
So we should now all wish Damien good luck in his new career in PR and move on…
Block
BE
Okay – we should move on.
Block
PM
yes, but just one tidbit..
Block
PM
New head of business is the deputy editor of the Sunday Tel – Tim
Jotischky. Last job – head of sport at the Daily Mail.
Block
BE
Okay – let's get the scores over with.
Block
BE
Down day for the FTSE
Block
BE
Off 2 points at 6291.
Block
BE
Been as high as 6308 in early doors.
Block
BE
Best January for two decades or so, according to my data.
Block
BE
You know that chartist stuff about rising price and falling volume?
Block
BE
Weakening trend or somesuch?
Block
BE
Block
BE
(Chart from Bloomberg. Fair dealing activated. Please don't phone.)
Block
BE
Green line's the FTSE over the past year.
Block
BE
Purple line's the 90 day moving average volume of FTSE 100 stocks over all markets, not just LSE.
Block
BE
Basically, volume (on a 90d MA) is down nearly 40% over the past year.
Block
BE
Precisely. We're now averaging below 1bn blue chips traded per day.
Block
BE
Been in steady decline forever, but it now looks terminal. Anyway, I note it in passing
Block
BE
And amid some curiosity as to where these record fund flows into equities are actually going.
Block
PM
(Capt B Mannering — yes it does)
Block
BE
(Yup – that's consolidated data. UKXVOLC, for those with a Borg machine.)
Block
BE
(Which is worth every penny of the whatever it costs per month. Please don't phone.)
Block
BE
Anyway, let's shove on to what's actually moving today.
Block
BE
Yeah, Bramson has turned up on the shareholder list.
Block
BE
A fact that he announced himself, apparently unilaterally.
Block
PM
A very odd statement
Block
PM
The Board would like to bring to the attention of 3i Group plc ("3i") shareholders its understanding that Sherborne Investors through its associates (together, "Sherborne") and Jefferies International (Nominees) Limited ("Jefferies") have been trading in 3i shares during January. We understand that trading commenced on 2 January 2013, and in a number of instances, we believe that Sherborne has acquired and then sold 3i shares to Jefferies. We believe that as at close of business on 15 January 2013, Sherborne had acquired an interest representing approximately 0.7% of 3i's total issued share capital, and has since sold that interest to Jefferies. In addition, since then, we believe that Jefferies has acquired further 3i shares, and that, as at close of business on 22 January 2013, Jefferies owned approximately 1.6% of 3i's total issued share capital. In the period from 2 January to 22 January 2013, the volume weighted average price of 3i shares was approximately 239 pence per share. As at close of business on 28 January 2013, 3i's share price was 258.9 pence per share.

The Board notes that in November 2012, an investment vehicle, Sherborne Investors (Guernsey) B Limited, which is managed by Sherborne Investors Management (Guernsey) LLC, raised gross proceeds of £207m with the stated objective of investing in a company which is publicly quoted, most likely on a UK stock exchange, and which it considers to be undervalued. The Board also notes the comments in a Financial Times article on 3 January 2013 in relation to this new investment vehicle, stating that "Most of the £200m raised will be used to buy up to 30 per cent of one target". Jefferies International Limited is nominated adviser and broker to Sherborne Investors (Guernsey) B Limited.
Block
PM
Bramson of F&C fame
Block
BE
Yup – effected a nil-premium takeover there.
Block
PM
Ousted the chairman and installed himself
Block
BE
And, to be fair, has pushed them higher since. Partly on his own stake building, admittedly.
Block
PM
Edward Bramson
Executive Chairman
Mr Bramson joined the Board and was appointed Chairman in February 2011 and became Executive Chairman in October 2011. He co-founded New York based Hillside Capital, a specialist private equity firm in 1977 and Sherborne Investors, which is involved in both private and publicly listed investments, in 1986.
Mr. Bramson has previously served as Chairman of Nautilus Inc, Spirent Communications plc, Elementis plc, 4imprint Group plc and Ampex Corporation. He is currently a partner of Sherborne Investors
Block
PM
let me get a pic of the chap
Block
PM
Block
BE
He also got lucky with F&C on contract renewals, which was always a binary outcome.
Block
BE
(@yogabba: Kleinmanwire over the weekend, I think. Don't believe the numbers are going to move the dial.)
Block
BE
Anyway, there's some curiosity about what his plan is here.
Block
PM
So who's in Bramson's sights? Borrows?
Block
PM
Former Barings M&A guy who then spent years at ????
Block
BE
Well, Borrows has just arrived really. And he's set the stall out for serious cost cutting.
Block
BE
And I've not heard any suggestion that shareholders haven't backed him.
Block
PM
Came from Greenhill (belated fact)
Block
BE
The shares have certainly reflected that.
Block
3i Group PLC (III:LSE):
Last: 266.90, up 8 (+3.09%), High: 272.70, Low: 262.10, Volume: 2.86m
Block
BE
We're back to within 10% of NAV.
Block
PM
So I wonder what the Bramson plan is
Block
BE
I sumply don't know, and neither does the sellside.
Block
BE
Caz says it in rather measured tones.
Block
BE
Sherborne is a c. £200m vehicle launched late last year. According to the
placing document, most of the capital raised is earmarked to buy up to
30% of a 'target' that it considers to be 'undervalued as a result of
operational deficiencies and which it believes can be 'rectified by active
involvement'. The previous Sherborne vehicle took a stake in F&C,
where Mr Bramson took a very active role.
Block
BE
If 3i is his next target we would just note that he will not be able to
acquire much more than a 9% stake. This will give him some influence
and depending on his agenda he may find other shareholders back any
plans.
Block
BE
t is also worth bearing in mind that last year 3i shareholders voted
decisively against Laxey's radical plans to undertake an orderly
realisation when arguably there was a better case for instigating them
given the very wide discount prevailing at the time.
Block
BE
We are not convinced that there is a huge store of hidden value with the
discount now having closed to an estimated 10%, given that relatively
new CEO Simon Borrows has been taking a 'Bramson-like' cost cutting
approach. That said, we have made the point before that if investment
performance does not improve over the next 18 months or so – and this is
dependent on assets that are already in place and therefore outside senior
management control – there would be pressure to follow the controlled
liquidation approach. In our view it is too early for that. Nonetheless, we
await developments with interest, and will be interested to see what 3i
says on 31 January when its reports its year end NAV.
Block
BE
And SocGen says it in rather less measured tones.
Block
BE
The train has already left the station
Block
BE
A bit late in the day
Block
BE
Free riding improving financial momentum
Block
BE
We find Sherborne's stake building in 3i (as flagged
by the group itself in a press release this morning) rather curious given that the self-help and
turnaround strategy not only started last May with the appointment of Simon Borrows as CEO,
but a great many of the measures needed to fix some of 3i's problems have already been
addressed. While Sherborne/Edward Bramson has done a good job at F&C, we see little value
for him to add at 3i given the work already done.
Block
BE
Having missed the first 40% of the recovery
in the 3i stock price, it could be that Sherborne wishes to participate in the improved financial
momentum that could come with a pick-up in exits in 2013 and what could well be a much
better prognosis for the NAV in 2013/14 (equity markets and macro backdrop permitting).
Block
BE
While it is nice to see some external validation of the 3i turnaround by a seasoned value investor, we believe the recent 3i rally is due to buoyant equity markets (which could prove ephemeral) rather than this intervention.
Block
BE
(Lovely quote that one.)
Block
BE
Bill Barnard's the analyst.
Block
PM
Okay, well one to watch in any case
Block
PM
We should move to RBS
Block
PM
Been clouted this morning
Block
Royal Bank of Scotland Group PLC (RBS:LSE):
Last: 347.40, down 20.4 (-5.55%), High: 366.48, Low: 346.68, Volume: 11.24m
Block
PM
Stock off 5.6% currently
Block
PM
Number of factors at play here i think
Block
BE
Journal story, for one.
Block
BE
US seeking criminal charges over Libor fiddling.
Block
BE
Looking for a guilty plea, which RBS execs are resisting given the rather extreme litigation risk.
Block
PM
Surely the criminal threat is just hardball negotiation from the Americans, no?
Block
BE
That's what I'd have thought, yes. It's not for me to suggest planted story …..
Block
BE
But this does seem to have woken up some people to the wider stresses facing RBS.
Block
BE
We're five years into Stephen Hester's five year plan.
Block
BE
(And six since it made a profit.)
Block
BE
And look what's still to be dealt with.
Block
BE
PPI, interest rate swap misselling, LIBOR …
Block
PM
I've got a new factor to possibly add into the mix
Block
PM
But not quite sure, cos i cant speak/read Italian
Block
PM
Maybe someone on the right can help
Block
PM
Dal documento emerge che il primo bonifico, da 9 miliardi e 267 milioni (dunque più del prezzo pattuito di 9 miliardi e 230 milioni), venne effettuato il 30 maggio 2008 a favore di Abn Amro Bank con sede ad Amsterdam, nominata – si legge nel documento informativo relativo all' acquisizione di Antonveneta inviato da Mps alla Consob – dal Banco Santander «soggetto venditore titolare di diritti e obblighi derivanti dall' accordo».
Block
PM
ABN Amro may be mixed up with the MPS scandal in Italy
Block
PM
But not sure whether it is the ABN being part of RBS, or the new standalone ABN
Block
PM
Needs more looking into
Block
PM
Anyway, just wanted to mention that possible extra fact
Block
BE
Interesting spot, yes. Large mystery payments in Italy. It's easy to jump to conclusions, I guess …..
Block
PM
(Puntino — thanks for clarification. Any further details appreciated)
Block
BE
Anyway, on a more prosaic level, all RBS's self help is being unwound by regulatory headwinds.
Block
BE
And we, by which I mean I, seem to have forgotten the dividend access share on government's B shares
Block
BE
Which demands a 2.5x the ordinary dividend or a 7% coupon, whichever's greater.
Block
BE
And that only expires when the RBS shares hit and sticks to 650p.
Block
BE
This thing's never going to be a normal investment case, is it?
Block
BE
And the flight to s**** rally seems misplaced in that context, at least to me.
Block
BE
Oh, should also note a Goldman downgrade yesterday afternoon ….
Block
BE
Which, as is the way with Goldman afternoon downgrades, only reaches some desks the next morning.
Block
BE
Regulatory rhetoric sharpens, shares rise
The Financial Policy Committee has consistently
recommended that the UK banks boost their
capital ratios since its first meeting in June 2011.
However, over recent months the FPC's rhetoric
has sharpened. Meanwhile, the first report of the
Parliamentary Commission on Banking Standards
has added further regulatory risk, in our view. In
parallel, UK banks have rallied strongly. Against
this backdrop, and with potential catalysts over
the coming months, we are incrementally more
cautious on the UK banks.
Block
BE
Range of capital outcomes wide, potential
earnings dilution substantial
The capital exercise being undertaking by the FSA
(at the request of the FPC) could result in a wide
range of capital adjustments (from £1.3 bn at
Standard Chartered to £8.5 bn at RBS), on our
analysis. Moreover, the cost of boosting capital
ratios varies considerably across banks.
Combining potential capital adjustments and
costs, we estimate resulting EPS dilution ranging
from negligible (HSBC, Standard Chartered) to
25% (RBS, under a severe set of assumptions).
Block
BE
Equity view: RBS down to Sell, preference
for HSBC (Conviction Buy), Barclays (Buy)
Of the UK banks in our coverage, we view RBS as
most exposed to near-term regulatory risk. We
downgrade the stock to Sell (from Neutral). We
remain Neutral rated on Lloyds Banking Group
but highlight near-term regulatory risks to the
shares. Barclays could also be impacted, but we
expect the group to announce balance sheet
shrinkage as part of its strategic review (February
12, 2013) supporting capital ratios.
HSBC/Standard Chartered are unlikely to be
identified as having capital shortfalls in our view;
we retain a preference for HSBC on the basis of
relative valuation, return trends and expectations.
Block
BE
Credit view: UK banks remain attractive
We continue to see the UK banks as one of the
most attractive sectors in our coverage on a riskadjusted
basis. Comments such as those recently
from regulators in the UK increase the probability
that the banks will need to carry out additional
restructuring that is likely positive for credit
spreads and supportive of our Outperform ratings
on RBS, LLOYDS and HSBC.
Block
Lloyds Banking Group plc (LLOY:LSE):
Last: 51.65, down 1.49 (-2.80%), High: 53.35, Low: 51.64, Volume: 59.48m
Block
HSBC Holdings PLC (HSBA:LSE):
Last: 715.80, down 1.3 (-0.18%), High: 720.00, Low: 713.10, Volume: 4.84m
Block
Barclays PLC (BARC:LSE):
Last: 297.95, down 7.9 (-2.58%), High: 306.65, Low: 297.50, Volume: 21.85m
Block
PM
Generalised profit taking across the sector
Block
BE
Looks that way. And justified too.
Block
PM
Espirito Santo also sellers
Block
PM
Of RBS, downgraded Lloyds
Block
PM
Domestic UK banks have been some of the best performing banks in Europe since the ECB's OMT announcement. While systemic and regulatory risks have receded, the operating environment remains difficult in the face of a weak economic outlook. 2013E consensus earnings have fallen steadily and only now appear to be stabilising. Lloyds and RBS are two of the most expensive stocks in our coverage universe with implied costs of equity of 2.8% and 4.1%. Despite the shares attributing no (negative) value to non-core divisions, with Lloyds and RBS 2012E P/core TNAV trading on 1.2x and 1.0x we see limited upside from current levels. Moreover, with the FSA to report back to the FPC in March, short-term regulatory risks remain. With Lloyds most impacted if regulators moved to standardised credit risks (330bp 2014E B3 CT1 ratio impact by our analysis), and RBS the weakest capitalised UK bank (2013E B3 CT1 ratio of 8.9%), dilutive equity raisings cannot be ruled out. Hence we downgrade Lloyds and RBS to SELLs reflecting full valuations and regulatory risks, with new FVs of 48p and 320p. We continue to be BUYERS of HSBC and Standard Chartered for their International growth and Barclays ahead of the restructuring.
Block
BE
(@tk: I don't disagree. But there's only so good a jockey can be if the horse has three legs.)
Block
BE
Yeah, that's the theme. Shares overbought, regulatory risk ignored, sell.
Block
PM
it's top of the leaders board
Block
BE
Sure. A triumph of information pre-management, this.
Block
Anglo American PLC (AAL:LSE):
Last: 1,914, up 41 (+2.19%), High: 1,925, Low: 1,861, Volume: 1.42m
Block
PM
On the Minas-Rio thing
Block
BE
Yup. We have a $4bn post-tax writedown
Block
BE
Which is at the lower end of expectations
Block
BE
The expectations having been established over the past couple of weeks as loads of people suddenly realised it needed at least a $4bn post-tax writedown.
Block
BE
Efficient markets at work.
Block
BE
According to Cazenove, possibly not.
Block
BE
Impairment looks under-cooked, although NPV arguably conservative:
Block
BE
the company will record a post-tax impairment charge of $4bn in its 2012
results to account for the changes; pre-tax we believe this amounts to ~$5bn
vs our estimate of a $6bn write-down. We continue to believe the ultimate
figure will be larger – indeed the higher LT FOB cost estimate wipes a
further $1.4bn off our NPV for the project to $1.6bn (end '13E) vs $3.0bn
previously. With a current carrying value of ~$9bn on the project as of end
'12E and ~$1.5bn (JPMe) more to be spent during '13E, this would imply a
further pre-tax write down of at least $4.1bn to come at the end of 2013E.
Ultimately, with ~$5bn still to be spent, the final write-down could be
larger, although we note the company is taking a relatively conservative
approach in basing its NPV only on Phase 1 of the project.
Block
BE
The other positive here — against lowballed expectations — is the capex estimate of $8.8bn.
Block
BE
previous guidance was "not less than $8bn"
Block
BE
And market expected a 9 handle.
Block
BE
So, all in all, it's terrible news. But it's not as terrible news as we'd been prepared for.
Block
BE
Here's Barclays to summarise.
Block
BE
Anglo American has released the details of its review of the troublesome Minas Rio project this morning – slightly earlier than expected. Overall the update is better than expected (the first time we have used that phrase since the asset was acquired in 2007). The overall capex figure is now $8.8bn (we estimated $9bn) leaving c.$5.1bn to spend. The timetable is kept the same with first production due end of 2014 and the impairment charge taken of $4bn is lower than we had thought (asset value on the balance sheet is $10.8bn according to our calcs). We would caveat any excitement though – our NPV for the project is still only c.$270m up from $-408m (increase of 2% of mkt cap.). Moreover the timetable is still contingent on a number of residual land access constraints be resolved by the end of March 2013. We believe there are some in the market who would like to have seen AAL walk away or at least bring in a partner. But overall we see the news as a relative positive.
Block
BE
Overall we believe the announcement should be taken in a positive light by the market as it draws a line (albeit dotted until licences are fully granted) under concerns around the capital costs and timelines for delivery of the project. We upgraded Anglo American in December 2012 to EW based on our view that there were a number of potentially positive catalysts in 2013 – the resolution of issues surrounding Minas Rio was one of them. Earnings based valuations still look relatively rich though, with the shares trading on a spot PER for 2013 of 12.2x, EV/EBITDA of 6.5x and free cashflow yield of -3.2%. However, it's at parity with NPV and a 35% discount to its SOTP.
Block
PM
So, well managed newsflow
Block
BE
That's how I'm seeing it.
Block
BE
Still a long way to go to figure out what shape Anglo should be, though.
Block
BE
And, in that context, I guess the progress here is welcome but minimal.
Block
PM
Outlaw has been complaining that we don't do enough macro
Block
PM
Problem is finding fresh macro
Block
PM
Here's something to keep you busy Outlaw
Block
PM
Abstract
The financial and economic crisis has generated renewed interest, especially among policy-makers, in earlywarning systems that could help identifying fiscal and macro-financial vulnerabilities potentially triggering
risks. Against this background, this paper presents an early-warning index of fiscal stress, incorporating fiscal,
financial and competitiveness variables, some of which are common to the scoreboard used in the EU for the
surveillance of macroeconomic imbalances. Thresholds of fiscal risk are determined, based on the nonparametric signals approach, for the overall index, the two sub-indexes grouping fiscal and financialcompetitiveness variables and each individual variable used in the analysis. Values of the overall index
beyond its critical threshold pinpoint to potential risks of fiscal stress in the short run, while the analysis at
individual variable level allows identifying possible sources of vulnerabilities, which is key to design
appropriate risk-mitigating policies. The results obtained highlight the importance of incorporating financialcompetitiveness variables in an early-warning system for fiscal stress, as such variables appear to be better
"leading indicators" of fiscal stress than fiscal variables are. The results also speak in favour of using an
early-warning composite indicator of fiscal stress, rather than looking at the individual variables taken in
isolation. Results obtained by applying the proposed methodology to EU countries are presented in the last
part of the paper.
Block
PM
An early-detection index of fiscal stress
for EU countries
Block
PM
Courtesy of the European Commission
Block
PM
There's an interesting CS note on this that i need to get up in the Long Room
Block
PM
Will share cover page
Block
PM
An early-detection index of fiscal stress
In a recent paper the European Commission presented a new indicator of fiscal
stress, incorporating not just fiscal but also financial and competitiveness
variables, to detect early signs of potential fiscal stress in European countries.
The paper makes the interesting point that financial and competitiveness
indicators are generally more able than fiscal variables to foresee an episode of
fiscal stress. Ireland and Spain are good examples: the initial fiscal issues were
concealed by booming, domestic demand-driven, fiscal revenues and by
unsustainable developments on the private debt and external imbalances front.
Based on the latest data available, the index shows clear risk of fiscal
stress for Cyprus, while Spain (together with Portugal and Greece) is a
borderline candidate. Italy, France and Germany appear at low, very low
and almost inexistent risk of fiscal stress for 2013, respectively.
We present below the structure and methodology behind the European
Commission's fiscal stress indicator and provide our analysis on how things
could evolve from here, including what would be the key changes required for
fiscal stress risks to increase and/or decrease, with a special focus on Spain.
Full implementation of the planned adjustment would reduce the risk for fiscal
stress in the short term in Spain, although a more serious chance to leave the
"danger zone" is unlikely until next year.
Block
PM
GB Krona mentions Glenstrata
Block
PM
That was an interesting interview with Mick the Miner yesterday
Block
BE
"It's not a merger, it's a takeover," was the line picked up most often elsewhere.
Block
BE
Which I thought was stating the obvious.
Block
BE
Also talking about a middle management exodus and Glencore's need to get the deal done being ultimately damaging.
Block
PM
Mr Davis worries that even though the two companies' histories over the past 10 years are closely intertwined and he and Mr Glasenberg are old sparring partners and rivals, the cultures of miner and trader will be hard to meld. "Glencore has a completely different view of the way a company should be run . . . [Trading] is about managing risk, making sure your traders don't create more risk than you're comfortable with. It lends itself to a very centralised approach, where decision rights are elevated to the highest possible level . . . Running a distributed, asset-rich company like ours means the people who actually take the decisions must be where the action is and they must have as much unfettered discretion to get things wrong – otherwise how would they learn?"
Block
PM
He talks about how his management style is very devolved
Block
PM
Gives managers lots and lots of freedom
Block
BE
There's a certain amount of talking his own book here, of course, though it may be unfair to suggest it.
Block
Xstrata PLC (XTA:LSE):
Last: 1,168, down 7.5 (-0.64%), High: 1,182, Low: 1,166, Volume: 788.96k
Block
Glencore International PLC (GLEN:LSE):
Last: 388.40, down 2.4 (-0.61%), High: 393.05, Low: 387.85, Volume: 2.20m
Block
PM
Well, i think he's somewhat sore
Block
BE
Understandably so. He was the fall-guy here.
Block
PM
But good interview by Andrew Hill and Helen Thomas
Block
BE
Okay – should note BT I guess.
Block
BE
Saying it's a crowded long.
Block
BE
Price performance is quite surprising. Come up from about 100p in two years.
Block
BT Group (BT.A:LSE):
Last: 244.50, down 7.6 (-3.01%), High: 246.60, Low: 244.00, Volume: 8.73m
Block
BE
What does BT do that others don't? It's an internet provider, right?
Block
BE
It owns more copper than most, admittedly.
Block
BE
We have had a Buy rating on BT since June 2009, liking the combination of
1) excellent management, 2) the commitment to turning the business around,
3) the focus on cashflow delivery through cost reduction and 4) the
deleverage effect (paying down debt and de-risking of the pension risk).
Block
BE
However, we now feel it is appropriate for a "pause". Although BT is not
overly expensive, trading on just c.10x P/E and 5.1x EBITDA with a 11.4%
FCF yield, we sense that the stock is a very 'consensus long' with most
investors already owning the stock.
Block
BE
In our view this leaves the stock exposed as earnings appear to be flattening
(indeed, consensus EBITDA for Q3 is expected to be flat yoy for the second
consecutive quarter) while underlying revenue at -4.5% is some 6.5ppt off
the guidance for March 2013 that BT gave under two years ago. We worry
that BT may be tempted to use some of its cashflow generation (which has
been used to top up the pension so far) to drive revenues. That would mean
an impact on either opex or capex and put FCF guidance under pressure.
Block
BE
Just looking at the revenue breakdown in that note …..
Block
BE
Global Services is 44% of BT's group revenue.
Block
BE
More than retail, at 42%.
Block
BE
It's more Logica than it is a phone company. That's under-appreciated.
Block
PM
Goodness, didnt realise that
Block
PM
I'm a BT customer again
Block
BE
Oh, are you? I was considering switching.
Block
PM
Web's not cheap, but it's not bad
Block
BE
Yeah, I'm with Sky. Which is not cheap and is bad.
Block
BE
Anyway, that's BT done.
Block
BE
Oh, we've done ISPs so how about some house prices
Block
BE
Just to complete the Dinner Party Live double whammy.
Block
BE
Interesting chart via Grainne Gilmore at Knight Frank this morning.
Block
BE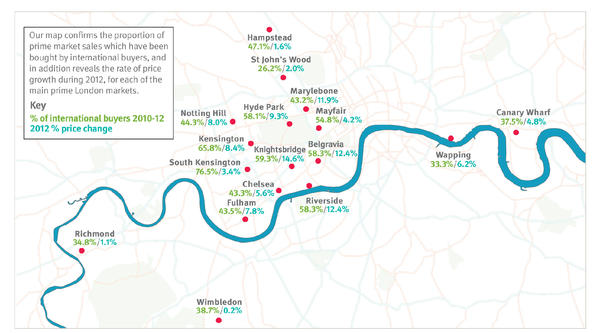 Block
BE
Little difficult to see, but it's international buyers in prime areas.
Block
BE
Nearly 60% of buyers non-national in Knightsbridge, where prices are up nearly 15% /in a year'.
Block
BE
More than three quarters of South Ken buyers are "international"
Block
PM
Trouble is, this ongoing trend hollows out neighbourhoods
Block
PM
There's one large house near me, overlooking Greenwich Park which is just serviced by an agent, who puts flows in the window etc. But no one has even visited in 12 months
Block
PM
It's clearly just a vehicle for hiding cash
Block
BE
Interested also to see Wapping on that list.
Block
BE
A third of buyers apparently not from round these shores.
Block
BE
This is Wapping, remember.
Block
BE
It's a big gated development along the water, next to what is largely a slum.
Block
BE
This is what's meant by hollowing out areas. It's grim. And I'll be delighted the day interest rates crank back up to 6% and it all goes pop.
Block
BE
Anyway, that's midday. Pushed over the line by a housing market rant.
Block
BE
Should we wind up now?
Block
BE
(@outlaw: having worked at the Times for too many years, I can assure you that it is. It's a slum with a bit of veneer stuck on it.)
Block
BE
So – thanks for all your comments.
Block