This is the transcript of the Markets Live session ending at 12:06 on 19 Dec 2012. Participants in this session were: Bryce Elder Tony Tassell
BE
Markets Live. FT Alphaville. Things. Numbers. Etc.
BE
Joining me today — assuming the technology works — is Tony Tassell.
BE
Excellent. Good to have you here Tony.
TT
lots to talk about this morning obviously
BE
Should we start in Switzerland?
TT
yes…absolutely.. no prizes for guessing the topic
BE
(@TK: you and me both. This could be a struggle.)
TT
maybe we should start with one those pic dooflicky things you now have on ml
TT
mmm..could not quite get that to work…
TT
thought we should start with a reminder of the words of Siegmund Warburg
TT
who sold his bank into the bank that became the mire of UBS
TT
. He wrote that "the important elements of a first-class private banking business" were:
1. Moral standing
2. Reputation for efficiency and high quality brain work
3. Connections
4. Capital funds
5. Personnel and organisation
BE
And here's the pic dooflicky thing.
TT
so how do we think this morning's news stacks up against that
BE
TT
i assume everyone has seen the news
TT
and the eye-popping quotes on UBS
TT
The nature of the relationship and total disregard for proper standards by these Traders and Brokers is clear from the documented communications in which particular individuals referred to each other in congratulatory and exhortatory terms such as "the three muscateers [sic]", "SUPERMAN", "BE A HERO TODAY" and "captain caos [sic]".
TT
In a private chat Manager D said to Trader-Submitter C: "JUST BE CAREFUL DUDE". Trader-Submitter C replied: "i agree we shouldnt ve been talking about putting fixings for our positions on public chat".
BE
"Muscateers" … morons.
BE
Morons in every respect, really.
TT
i think the Be a Hero quote is going down in banking folklore with the Barclays bollinger quote
TT
actually we probably owe Barclays an apology
TT
if we implied they were an outlier in banking behaviour
TT
the old UBS makes Barclays look good…
BE
Shouldn't blame the players, blame the game.
BE
Yeah, I think I do too actually.
TT
some banks were worse than others even i can't name a big international bank that did not do something bad before the crisis
TT
Ok sometimes i confess whether the banking backlash has gone too far….
TT
after all we need animal spirits to get the economy growing…but but then you get a moment like this….
TT
just astonishing really…
TT
a good point from Steve Hawkes, the failed Bank of England governor candidate
TT
On UBS , the scale of the dodgy dealing makes you wonder, was Kweku Adoboli really that "rogue" ?
BE
Personally, I find that rather trite from the future Telegraph reporter.
BE
So who was running UBS at this time?
TT
well obviously he had no personal knowledge and not accused of anything personally
TT
hard to remember who big a presence he was in banking
TT
but the bank he was running was terrible really
BE
Okay. …. So there's plenty of comment around pitching the CHF1.4bn fine and profit warning as a positive.
BE
On the "known unknowns" argument.
TT
yes good point…cut to the chase
BE
Allow me to grey some of it.
BE
We see the announcement as a positive, reducing some of the uncertainty, with the Q4 loss guidance inline with our expectations, and the capital guidance better. Trading at 1.3x 2013E TNAV for a underlying 13.5% RoTE in 2015 we remain Outperform.
TT
(theOffie..many thanks…what was the article)
BE
■ CHF1.4bn settlement inline with recent press articles (e.g. Tages- Anzeiger) – market expectations for the size of the settlement have increased over the last few weeks from c.CHF0.5bn to c.CHF1.5bn. Whilst the size of the settlement is significant, we still see this result as a positive as it is manageable in the group context and removes some of the uncertainty for investors.
BE
■ CHF2.0 – 2.5bn Q4 loss guidance post charges inline – whilst it is unclear what consensus was looking for given restructuring costs, the group had already guided to a loss in Q4. Adjusting for the Q4 items the guidance implies an underlying net profit of CHF0.0–0.5bn, which is inline with our estimate of CHF0.2bn. Full year adjusted PBT guidance of CHF2.5-3.0bn is not clean of litigation, adjusted it is also inline to slightly better than us.
BE
■ 9.3% CET1 better than expected – we were expecting 9.1% before factoring in the restructuring charges and the group reported 9.3% in Q3, so this implies RWA deleveraging ahead of plan so far, with limited additional costs. This should give the market a little more confidence on the execution risks for the group and the scope for additional capital return in the future.
BE
The settlement has come at a cost – the fine equates to 47bp off B3 Q3 capital and UBS has also announced other litigation charges for Q4 12 of CHF700m. The underlying business ex litigation, restructuring charges and own credit is estimated to have made a pre-tax of CHF300-900m in Q4 implying a relatively low cost of exiting certain fixed income businesses so far and progress on RWA reductions given the comments on a flat B3 core T1 ratio, which is more supportive.
BE
The cost of the Libor settlement at approximately CHF1.4bn in fines and disgorgement is obviously very high relative to Barclays. UBS Securities Japan Co Ltd. (UBSSJ) has agreed to enter into a plea to one count of wire fraud relating to the manipulation of certain benchmark interest rates. UBS has entered into Non-Prosecution Agreement with the US DOJ for UBS AG and all subsidiaries with the exception of its Japanese subsidiary. There are no specifics on Japan but we do not expect UBS to lose its licence in Japan as a result of this.
BE
UBS expects to report a net attributable loss of approx. CHF2bn-CHF2.5bn in Q4 12. This is driven largely by around CHF2.1bn of provisions for litigation including LIBOR but also claims on RMBS and other matters. There are also restructuring charges of CHF500m and an own credit loss of approximately CHF400m. There are a number of ways to get to some kind of underlying pre-tax profit and assumptions that need to be made on tax but it appears to range between CHF300-900m ex litigation, restructuring charges and own credit. We were at the bottom of this range on a comparable basis due to de-risking in the investment bank. This would imply that the cost of de-risking in the investment banks was relatively low. Comments on good net new money in Wealth Management and WM Americas were of some comfort although there are no numbers.
BE
UBS expects its B3 common equity T1 ratio to be flat in Q4. Given an expected Q4 net loss of close to CHF2bn for capital purposes as well as the negative IAS19 impact of CHF1.3bn for the ratio to be flat at 9.3% implies a fall in B3 RWAs and potentially other offsetting positive effects. The litigation charges should take close to 70bp off B3 capital other things being equal.
BE
And Nomura mentions civil risk.
BE
Clearly a greater than expected loss is not positive, but we see the sum as affordable for UBS and we still believe that the new high ROTE and low RWA business model with some upside from recapturing tax loss carryforwards will support the shares in the face of execution risk. Furthermore, the fact that we expect several more banks to settle over LIBOR makes this less of a reputational risk for UBS, as positive Q4 net new money flows attest (we would note here that CS has been the most optimistic in suggesting that it sees no "material issues" in the LIBOR matter).
BE
However, as we discussed in our note of July 4 "LIBOR: assessing a large uncertain risk", evidence of collusion between LIBOR panel banks (for which the FSA report documents several pages) potentially leaves banks exposed to substantial civil damages. More generally, litigation remains an ongoing cost of business for most investment banks, with for example DBK and CS disclosing that they have up to EUR 2.5bn and CHF2.9bn respectively of non-remote potential litigation losses in excess of reserves.
BE
And that'll do for that.
TT
did UBS investment bank actually comment?
BE
(Apologies, rabble, it's official Stand Around My Desk and Talk Loudly About House Prices Day, Ignoring The Fact That I have a Defcon 5-Level Hangover.)
BE
(Slightly distracting.)
TT
i thought this was quite musing from the FSA notice on UBS
TT
it is another pic dooflicky thing
BE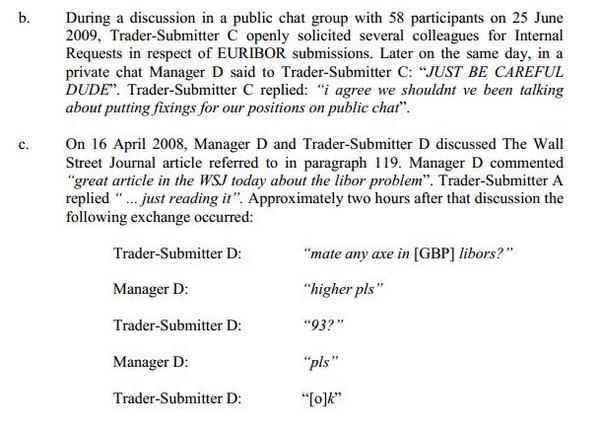 TT
that was via David Enrich of the WSJ
TT
so they read about the libor problem and still went ahead
BE
(@Underminer: yes. They do. For 20 minutes. Sometimes in Norwegian.)
TT
mmm…anyway expect acres of coverage of this
TT
and so there should be
BE
Yeah, and on that note we should probably move on.
BE
So – the Santa Rally We're Not Allowed to Call A Santa Rally continues.
BE
FTSE up 38 points at 5973.
TT
is the santa rally one of your banned words like pyschologically-important
BE
Chris Adams has banned it.
BE
Along with all the most obvious people to quote when there's no-one at their desks.
BE
Chris is a hard taskmaster.
TT
what are you seeing moving this morning;.or i have a lot of strategy thoughts to talk about
BE
Strategy's probably a good thing right now.
TT
shall we start with the gloomy?
BE
(@Nobby: I suspect "portfolio stuffing" is nearly banned as well. They don't let us have any fun.)
BE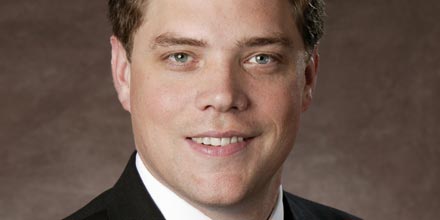 TT
fine looking man, a former colleague and a decent guy
TT
not optimistic…in his outllook for Europe 2013 out today
TT
Looking ahead, we see ongoing recession in the eurozone and stagnation in the UK. We expect the eurozone economy to contract by 1% to 1.5% over the next four quarters – well below the consensus – driven by a deep recession and hampered by attempts at fiscal retrenchment in the periphery. The growth outlook has also weakened, though not as dramatically, in Germany and the other core countries. We expect a milder recession in Germany and France over the next four quarters. There is no significant driver of domestic demand growth in the eurozone and, at a time of slower global growth, little chance that overseas demand will help to pull the eurozone out of its malaise.
TT
We have seen significant normalization of eurozone financial markets owing to the ECB's Outright Monetary Transactions (OMT) programme, signalling that it will be a lender of last resort to eurozone governments. Yet, these actions and the ECB's broader funding efforts, while they have helped to avoid a collapse, have been insufficient to promote decent growth.

In the UK, expect the economy to be flattish over the period, owing to the impact of fiscal tightening and the weakness of the UK's biggest trade partners. As in the eurozone, monetary policy intervention has helped to prevent a deeper decline but has done little to promote better positive growth outcomes.
BE
So how does this translate to actual, y'know, investing and stuff.
TT
ok here is where PImco is making its bets
TT
following our last Cyclical Forum in September.

The level of core government yields – including Germany and the UK – leaves little room for further capital appreciation, except in the event of renewed systemic pressures in the eurozone. At a time when central banks are attempting to peg the front ends of yield curves, we see the potential for earning relatively stable income from rolling down the steep end of the curve, favouring the intermediate parts of the yield curve and underweighting the long ends.

We remain neutral to overweight on Italy and Spain, after a long period in which we were previously underweight European peripheral risk. This reflects the impact of the ECB in reducing the risk of significantly adverse outcomes over the cyclical period and the relative value that Italian and Spanish sovereign bonds, as well as select private sector credit opportunities, offer vs. European and global credit alternatives.
TT
While we have targeted our exposure on Italy and Spain under the ECB's potential bond-buying umbrella of one- to three-year sovereign bonds, we have extended a bit beyond that in an effort to garner the carry on the yield curve. We continue to take a cautious approach, scaling our Italy and Spain positions as credit risk, and reflecting the extent of execution risk surrounding the plans of the ECB and eurozone governments in building a more stable union. We will continue to monitor the process very closely and adjust portfolios accordingly.

More broadly, global credit spreads have exhibited a compressed range to the risks and the weaker growth we forecast, including eurozone industrials and financials. We continue to take a very cautious approach and be underweight in European credit risk and European financials in general, looking for specific opportunities rather than broad exposure. For corporate exposures, we will continue to look for better global alternatives. In equities, while there is certainly a lot of scope for bottom-up stock selection in European markets, including companies domiciled in Europe that have good exposure to growth in emerging market countries, overall we are taking a cautious approach and see better value in emerging market equities compared with developed country stock markets.
TT
mmm…not wildly contrarian
TT
but you still have to pay attention to what pimco is saying
BE
Personally, I'm rather fatigued with paying attention to Pimco's Gross
TT
there is a lot more strategy around from Andrew Garthwaite and Barclays on the US earnings outllok..or should get stock specific if you have seen anything
TT
slightly wary of posting more patches of grey but here goes
TT
Barclays is saying the US earnings outllook is not bad as it seems
TT
S&P 500 4Q12 earnings growth expectations have plummeted since the end of last
quarter, with quarterly y/y growth falling to low single digits (~4%) (Figure 1) from low
double digits (~10%). However, we believe that the abrupt drop in the index masks
company internals, as highlighted in the wide disparity between aggregate sector and
median company earnings estimate changes (Figure 2). In addition, Hurricane Sandy
related distortions in the insurance industry have led to a continued slide in index
estimates, despite generally stable estimates across other industries (Figure 1).
Aggregate earnings expectations have not fallen as much as the headline index
suggests. Near-term expectations have dropped sharply in certain global growth and
capital spending leveraged industries such as technology, whereas industries tied to the
durable goods and housing trade have been the most resilient and estimates in
domestically leveraged cyclicals appear at risk.
TT
Persistently weak global growth and the slowdown in capital spending hit earnings
expectations in 3Q12 reporting season, with Technology, Materials and Industrials the most
heavily affected. Rationalized expectations for an emerging market and China rebound in
4Q12 is apparent in re-rated expectations for the closely related metals and mining
(materials) and machinery (Industrials) industries, which were two of the hardest hit in
earnings season and estimates continue to show weakness.

The capital spending slowdown, owing to weak demand and policy uncertainty, particularly
pressured industrials and technology. Although clearly secular declines and product line
cannibalization are partly to blame in technology, the slowdown in enterprise capital
spending has permeated through the sector and semis have suffered a nearly 30% decline
since reporting season. Notably, AAPL is the biggest hit to S&P 500 index EPS, taking 100bp
off index growth.
TT
Last quarter, earnings season was plagued by revenues falling short of expectations—the
weakest surprise since 1Q09—and cuts to company guidance, Given the sharp drop in PMIs
last quarter, compared with stability this quarter, it is tough for us to picture a case in which
revenue surprises are comparably as poor as 3Q12, particularly in global growth and capex-
leveraged names. However, although 4Q12 estimates look more reasonable and we expect
earnings to trough in 1H13, forward expectations for 2013 are far too high in our view and
guidance is at risk. Durables goods related estimates, autos aside, have been particularly
resilient despite broader economic slowdowns. We are cautious on domestic cyclical sectors
(discretionary), preferring to increase exposure to capex and global growth (technology).
TT
that is a little more than the consensus no?
BE
Also cut in Garthwaite or should we push on to something more granular now?
BE
Yeah, it's halftime already. Let's save Garthwaite for later.
BE
Having said that ……… Corporate news is DULL DULL DULL today.
TT
(TheLeggie..why not…a core issue no?)
BE
Oh, there is one remarkable story I guess.
TT
(ROTR – please behave and no disparaging of our journalistic peers )
BE
Cenkos has shown itself to be the greatest brokerage in the history of time ever
TT
like the bold for added emphasis bryce
BE
(ROTR: warning reiterated. Zap policy is in force.)
Warning to rude and abusive commenters – your ability to comment will be terminated immediately and permanently, without warning. Henceforth, FTAlphaville has instituted a One Strike and You Are Out policy. We've had enough. We are going to clean up these pixels once and for all.
TT
(TheLeggie..it was meant to be a bad joke)
BE
Well, they've managed to float a company.
BE
on the back of three months of trading
BE
In which it reports a £13.9m profit
TT
cool…no mean achievment in this market
BE
And a £20.5m negative goodwill release from the liquidation.
BE
Meaning an operating loss of £6.6m.
BE
Annualise that and the cash raised at the IPO can keep the doors open until about August.
BE
And this thing has a £50m market cap!
BE
Cenkos are geniusseseses.
BE
The company, of course, is Rangers International Football Club.
BE
Shares in Rangers Football Club started trading today after the company raised £22.2m through fans and institutions. £5m was received by fans in this year's only public offer. Institutional shareholders include Cazenove, L&G, JP Morgan, Artemis, Hargreave Hale, Insight and Kames amongst others as well as Mike Ashley. Rangers is debt free; has a 5.5m global supporter base; committed to keeping player wages below 33% of revenues and have significant merchandising opportunities. Cenkos is forecasting £12m profits in 2015.
BE
In May, the company will have £45m in cash (pre-IPO and IPO fundraising plus season ticket sales) with assets of £100m (they wholly own Ibrox and Murray Park the training facility). Despite this, the IPO values the company at £45m.
BE
That's from the
BE
(Ah, I get the emails regardless. I get people trawling the web for my religious affiliations.)
BE
(It's all mental up there, which is partly why I'm down here.)
BE
Oh, don't really care about it as anything other than a business.
TT
Kate Burgess received a huge number of abusive emails after she wrote about Rangers in her small cap column this week
TT
Rangers' IPO has the characteristics of a turkey with a short sell-by date. It may look delicious on Christmas day but will not smell so good in a few months.
TT
most of the emails to Kate were along the lines what does a woman like you know about football
BE
That's Glasgow for you …..
BE
But we have a day one pop.
BE
On the back of nearly half a million traded last I checked.
BE
By which I mean three trades on the book this morning. Two by Cenkos.
BE
Giving Caz, L&G and the rest a nice, instant 10% (paper) return. And right at the year end too.
BE
Not that I'm suggesting there's anything wrong with that.
BE
Want to read Cenkos's analysis?
TT
yes please..does it say anything about Champions League
BE
Analyst's called Andrew Blain. He looks about 15.
BE
Rangers International Football Club ('Rangers'), the holding company for Scottish football club Rangers, has raised £22.2m through an institutional investor placing and public offer for subscription. Rangers is one of the oldest, most successful football clubs in world football having won a world record 54 League titles, 60 domestic Cups and 1 European Cup Winners' Cup, in its 140 year history. As the owner of its 50,987 capacity Ibrox Stadium and Murray Park training facility, which cost c.£14m to develop, and with debt-free status, we consider the club to be in a strong financial position relative to its peers. The fund raising has exceeded the Company's target of £20m, and accordingly we believe management has significant scope to invest in commercial opportunities which will help return the club to the highest levels of European football, substantially increasing the value of the equity.
BE
And we don't usually put up the disclaimers but, this time, I think it's necessary.
BE
This email and any of its attachments (together, the "Communication") are NON-INDEPENDENT RESEARCH AND MARKETING COMMUNICATIONS and is issued in the UK by Cenkos Securities PLC ("Cenkos"), which is authorised and regulated by the Financial Services Authority ("FSA") and is a member of the London Stock Exchange. It is intended for the sole use of the person to whom it is addressed and is not intended for private individuals or those classified as Retail Clients.
TT
(mo again…a long time ago we use to have a TV operation..i used to go on on it occaisionally when there was no one else…now we do video in the converged world)
TT
Aren't you a Hibs man Byrce..when you dein to show an interest in football
BE
And football chat is like baby pictures. It's tremendously interesting to you but dull as toast to everyone else.
BE
So I suggest we move on.
TT
(Baz..you would have to be a brave man or a celtic fan to short Rangers..not sure many shares will be sold by the Rangers fans)
BE
Dragon Oil mentioned on the right ….
Dragon Oil PLC (DGO:LSE): Last: 516.50, up 1.5 (+0.29%), High: 524.00, Low: 508.00, Volume: 128.20k
BE
(Titleist: yes. The company was liquidated.)
BE
Hadn't really had my eye on it, I admit, but the driver seems to be Merrill saying they'll miss production guidance.
BE
This is from a couple of days ago, but I'll chop it in anyway
BE
We reiterate our Underperform rating and expect Dragon Oil to miss their FY12
average production growth target YoY of 10% and achieve only 7.5%. We would
view such a performance as concerning and potentially indicative of a trend that
could negatively affect medium-term production as well. Management recently
guided to growth at the bottom end of the 10-15% range with their Interim
Management Statement on 23rd October and we are sceptical of Dragon's ability
to achieve production growth of 10-15% over 2013-15 and 100kboe/d in 2015.
BE
Average production up to the end of 3Q12 was 66.0kboe/d. In order to achieve
10% average production growth YoY (FY12 of 67.7kboe/d vs FY11 of
61.5kboe/d), we estimate that Dragon needs to deliver average production growth
QoQ of >4% (4Q12 of 72.6kboe/d vs 3Q12 of 69.6kboe/d), i.e. >17% annualised.
Given only two new wells have been brought on stream in 4Q12 – both at lower
rates than anticipated – and with a third well (Lam A/177) as yet unannounced,
we believe this ambitious target is now unachievable. Based on a 20% decline
rate on existing wells and 50% decline rate on new wells, as guided by the
company, we forecast FY12 production growth YoY at 7.5% (66.1kboe/d).
BE
We still await an update on the Lam A/177 well, which is due to contribute to
4Q12 production. Given there are only 17 days left in 4Q12, any contribution from
the well is likely to be negligible unless the flow rate is abnormally high. If the well
comes on-stream in line with recent flow rates, and if we forecast a decline rate of
only 10% on existing production, then average production growth could be 8.3%.
BE
Initial flow rates from new wells are still continuing to trend lower and this puts into
question production targets for 2013-15 of 10-15% growth and a 2015 rate of
100kboe/d. We highlight that the incremental well flow rate is on average trending
lower; average YTD in 2012 of 2.0kboe/d vs 2011 of 2.3kboe/d. This could
suggest that Dragon has been targeting sub-prime locations within the reservoirs
as it exhausts optimal drilling locations to increase production.
BE
(@Baz: keep allegations and accusations in check please. But, yes, generally, Nomad / sponsor role under scrutiny here.)
BE
Okay – what next? I'm really struggling to see much of corporate interest.
BE
Deutsche Bank has a big note on cement.
CRH PLC (CRH:LSE): Last: 1,197, up 30 (+2.57%), High: 1,208, Low: 1,180, Volume: 966.69k
BE
And I'm not sure I can face reading that, never mind typing about it.
TT
(now trying a little to multi-tasking…overhearing main news desk discussion on UBS coverage today)
BE
Should mention — if only in passing — the S&P Greek upgrade
BE
(@Gladys – good idea.)
BE
This seems to be S&P acting as a carrot rather than a stick.
BE
Quite an odd move, to my mind. Upgrade based on hope rather than (long dead) eco, like all the others.
BE
Let me cut to Citi for a summary.
BE
S&P upgrades Greek rating by six notches to B-. Ratings Agency S&P raised Greece's rating to B- yesterday after the completion of the distressed debt buyback, after placing it on selective default ahead of the operation two weeks ago. The six-notch upgrade brings Greece's S&P rating to the highest level since June 2011. The rationale behind the sizable upgrade is that S&P sees a "strong determination" from euro area countries to "preserve Greek membership in the eurozone" and restore its financial sustainability, following the "material cash" disbursement of €34.3bn on Monday as part of the second bailout programme. The outlook was turned to stable, reflecting the "government's commitment to a fiscal and structural adjustment" despite economic and political challenges of doing so. S&P acknowledges that the adjustment carries implementation risks, since growth will continue to be negative and hence social pressures are likely to persist. Further upgrades will come if Greece complies with the adjustment programme, while it could be lowered if another distressed exchange occurs on the remaining stock of commercial debt.
BE
Comment: the S&P move is sizable and signals quite a change of perception from S&P about the likelihood of Greece leaving the eurozone in the next few quarters. However, we believe another debt buyback on the holdouts from the March PSI is quite likely to happen at the beginning of 2013 – as this is one of the measures envisaged in the just-published troika report as part of the debt-reduction efforts. Although the new buyback will involve only a small part of the debt – around €5bn still outstanding – this may well push the S&P rating lower again.
TT
(Bryce..you seem to have gone soft on Milky in my absence from this chat)
BE
(His visits are fleeting these days. We tolerate.)
TT
anyway the prior reference to Mr Loeb was this morning's splash
TT
Greek bond bet pays off for hedge fund
By Sam Jones, Hedge Fund Correspondent
©EPA
One of the world's most prominent hedge funds is sitting on a $500m profit after making a bet that Greece would not be forced to leave the eurozone, bucking the trend in a difficult year for the industry.
Third Point, headed by the billionaire US investor Dan Loeb, tendered the majority of a $1bn position in Greek government bonds, built up only months earlier, as part of a landmark debt buyback deal by Athens on Monday, according to people familiar with the firm.
TT
helpfully illustrated on the site with this
BE
Need to get Assanka to add .img support.
TT
Get Assanka to add .img support.
BE
Thanks. Though I meant a bit later.
TT
shall we return to Mr Garthwaite
BE
(@Just Looking: feedback I've had is that you're looking at Q2 2013 and rail sale completion before we can move on to stage 2 of the carve-up story. That doesn't stop a predator knocking on the door in the meantime, of course, but there's no suggestion that's happened.)
BE
Yeah – back to strategy please.
BE
Garthwaite's always worth reading.
TT
ok this is the what the Credit Suisse strategy head honcho is calling for 2013
TT
Themes: financial repression continues (we expect 10-year real bond yields
in the developed world to fall to between minus 1.5% to minus 2%—and
hence we would buy cheap real assets, CSEREUQE); GEM consumer
discretionary spending growth is set to be 13% a year (CSEREMCS); US
corporate discretionary spending, we think, will surprise positively
(CSUSCORP); the US housing recovery accelerates. China remains an
underestimated competitive threat (CSGLCHTR). Country themes: focus
on Japanese reflation trades (CSAPJPRE), domestic Germany
(CSERGEDO), domestic UK and Italian risk. Caution on domestic France,
domestic Australia (CSAPASHT) and Spain.
■ Sectors: in Europe, we are benchmark cyclicals (having upgraded in
August), but upgrade financials to overweight. Our top overweights are
software and REITs. We upgrade insurance, luxury goods, advertising
agencies and beverages to overweight. We stay overweight of pharma as
part of our bar-bell strategy. We are underweight retailing, European capital
goods, IOCs and tobacco (which we downgrade from benchmark). In the US,
we upgrade cyclicals to overweight.
TT
■ Style: we think growth will continue to outperform in 2013. We like dividend
yield only when it is combined with DPS growth (though in the US we believe
high dividend yield stocks will underperform in Q1). We see value as a value
trap in industries where there is excess capacity.

We also think it is likely that QE will become increasingly unconventional. The first step in
this direction is for QE to become open-ended (as is now the case in the US), progressing
to direct lending to banks (as already carried out by the Bank of England and BoJ) and
finally leading to direct funding of infrastructure spending, if necessary.
The main beneficiaries of this trend are:
TT
so overweight cyclicals but underweight retailing?
TT
does that make sense Byrce
TT
retailers on a recent run and due for a correction?
BE
That's true. But I'd probably be long consumer over insustrial, simply on the Roadrunner cliff effect for consumer spending.
BE
They can keep running for a long time without dropping. Same's not true of industrial, and I'm seeing a lot of profit warnings at the mo.
BE
(@milky: thanks for stopping by. Hope your big speech at the school nativity goes well. Are you Joseph this year, or one of the sheep?)
TT
should head off soon…a couple of things before we go
BE
(@TheOffie: there isn't. Sorry.)
TT
a clearly indisputable research nugget dug out by
Mark Brumby of Langton Capital
BE
Always a good read in the morning.
TT
Drinkaware says 88% of drinkers will try to avoid excessive drinking over the festive season: Charity Drinkaware has found that 88% of drinkers will try to avoid drinking to excess over the holiday period, taking action such as eating before drinking, drinking at their own pace and keeping an eye on the amount of drink they've had. The charity found that 53% of respondents plan to drink more in December than at any other time of year and 27% say that they can drink at this time of year without feeling guilty.
BE
"try" is an important word in that.
TT
does that mean that 12 per cent are aiming for excessive drinking
BE
I didn't intend to run up a £250 bar bill last night. Yet, there it was.
TT
and before i go i should draw the attention of the ROTR to the Alphaville's annual christmas video
TT
they are all so young and bright..makes me feel very old
BE
BE
That's Cardiff doing his De Niro impression.
BE
BE
TT
yes you have to watch the video for an explanation of the soft toy bit
BE
TT
Joseph is looking sharp actually
BE
TT
and Iza has given the best description of QE i have seen
BE
And Flipperboy, looking implausibly Irish.
BE
That's as good a promo as any.
BE
ROTR: go watch. And say nice things about the team in the comment box. It's been a hell of a year and they work absurdly hard to keep you entertained.
BE
(@TK: easier to find a unicorn egg.)
BE
Thanks for joining, Tony.
TT
tk..no such photos are known to exist
TT
always an honour..thank you for having me
BE
And thanks for tuning in, ROTR.
BE
See you tomorrow, probably.
BE
(Just for old time's sake: Milky, red.)
TT
look out for more details of UBS as the day unfolds