When commentators cast around for reasons to explain the strength of the Australian dollar in the face of falling iron ore and coal prices they all arrive at the same answer – haven bond buying by central banks/ sovereign wealth funds. In fact, we've also made that very point.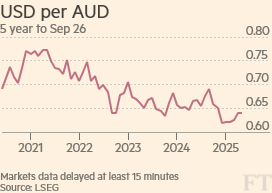 But just how much of a factor is it?
The Reserve Bank of Australia has long been sceptical about its importance as these Freedom of Information releases show.
(Click to enlarge)
And so is Richard Yetsenga Head of Global Markets Research at ANZ in Sydney.
He reckons the Aussie's strength is really due to the resources boom and specifically foreign direct investment – or the tens of billions of dollars being ploughed into big LNG projects in the Western Australia.
Of late the analytical focus for the AUD has been on portfolio flows, particularly bond flows. The Australian balance of payments data suggest, however, that the AUD's strength has little to do with a boom in portfolio flows, and everything to do with a mining boom which has encouraged a flood of FDI (Figure 1). (The data in all charts is from the Balance of Payments for the June Quarter 2012, and are presented as 4Q-ended sums.)

The FDI boom has resulted in Australia's first basic balance surplus since the early 1970s (the basic balance is the current account plus FDI). This is genuinely a different environment for the AUD. Typically low-yield, current account surplus currencies run basic balance surpluses (think Norway, Switzerland or Japan at one point). For a commodity exporter to do so is almost unheard of. A basic balance surplus currency will tend to be reasonably stable, and less cyclical, than currencies where portfolio flows dominate the capital account.

We can also drill further, and focus on bond inflows, the topic of main interest at present when it comes to the AUD (Figure 5). Certainly there has been strong inflow into government bonds in recent years, but these have been partially offset by outflows from bank bonds, as well as equities (not shown). The outflow from bank bonds reflects banks running down their bonds outstanding and switching towards deposit funding.
Figure 5.
All of which has some interesting implications.
First, the Aussie will tend to be relatively invariant to short-term swings in the newsflow, and domestic monetary policy expectations, says Yetsenga. Indeed, the market is pricing in something like a 65 per cent probability the RBA will lower interest rates next week.
The FDI inflows that are funding the current account deficit are the result of investment decisions in the mining sector, not the sort of newsflow which typically drives day to day moves in financial markets.
And second, the Aussie is unlikely to weaken substantially against its US counterpart until the investment pipeline turns sharply lower.
The RBA expects resource investment as a percentage of GDP to peak at 9 per cent in the next 18 months, which makes the 'Aussie weakening' a late 2013/early 2014 story. Unless, of course, work on the A$260bn of resources projects the ruling Labor government likes to claim are "baked in" suddenly stops.
As we have seen at Fortescue Metals Group, which abandoned part of its aggressive expansion plan in the face of weakening iron ore price, that can happen. But not every resources company carries an insane amount of leverage like the 'New Force in Iron Ore'.  The seven LNG projects, worth a total of A$170bn, under construction in Australia at the moment,all boast more conservative backers and have struck long term supply contracts with buyers in Japan, south Korea and China.
Update: 11.27am (AEST)
On a related note, our attention has been drawn to a recent JPMorgan note that showed foreign demand for Australian Commonwealth government bonds has started to weaken. We wrote about it here, but here's an excerpt:
The current account data for the June quarter show that offshore investors were still net buyers of ACGBs in the three months to June. Offshore investors added $5.1bn of ACGBs to their portfolios. · This was the lowest amount (in absolute terms) of offshore buying in net terms since the June quarter of 2009.

Offshore holdings of ACGBs as a percent of total outstanding now stands at 77.5%, a small decline from the record peak of 79.0% reached in the March quarter of 2012.

For the last couple of years, the Australian Government has been able to rely on offshore investors to absorb much of the net supply in ACGBs. For example, net supply since 2010 has totalled $144.7bn, and offshore investors have absorbed $128.0bn of this (that is, 88% of net supply has been taken down by foreigners).

But in the three months to June, net supply of ACGBs totalled $11.6bn; offshore investors absorbed only 44% of this supply. This was the lowest proportion since the June quarter of 2009. While one quarter is not enough to define a trend, we would argue that this is broadly consistent with the idea that much of the new reserve allocation by offshore central banks and sovereign wealth funds into $A fixed income is now in the past.

Accordingly, activity from here should be more to do with portfolio management rather than portfolio build out.
Related links:
Fortescue and the Wile E. Coyote moment for the AUD – FT Alphaville
Is Australia… in the same boat as Europe? – FT Alphaville