State owned rival RBS has wasted no time in sticking the boot into Lloyds Banking Group.
Here's the take of its banking team on António Horta-Osório's leave of absence.
It's titled Headless Horse. (he, he)
i) António has only been in his role for eight months and there has been significant management churn during this period. In short, most of the key new management is either new or still waiting in the wings.
ii) In September, Finance Director Tim Tookey resigned to take the CFO position at Friends Life. Even if Tim Tookey steps in to replace Antonio until Jan 2012 as suggested by the papers, this would not be a satisfactory outcome as the bank would still be looking for its two most critical leadership roles
iii) Lloyds is in the middle of a major balance sheet transformation exercise, including terming out its funding profile and selling down or running of a remaining £162bn (16.5 per cent of group balance sheet) of non-core assets. As a reminder, Lloyds has one of the weakest NSFR (net stable funding ratio) profiles in our coverage universe (FY10: 88 per cent).
iv) UK economic data continues to weaken and Lloyds is the geared play on the economy
v) Lloyds is not out of the eyes of the authorities – particularly with respect to competition concerns and state aid requirements – and it would be helpful to have a strong and persuasive negotiator at the table as the Government forms its response to the Independent Commission on Banking (ICB) by the end of the year and Lloyds attempts to comply with state aid rules by selling 632 of its UK branches and £65bn of associated assets.
In short, the timing and nature of this material development is extremely unhelpful, particularly given the difficult year thus far and long road ahead. Lloyds trades on 0.6x 2011 p/TCE.
At least they didn't mention the share price!
Year-to-date, Lloyds is the worst performing stock in the FTSE 100.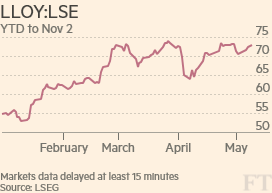 That's a 55.9 per cent drop, which is a little worse than Man Group, off 53 per cent and Vedanta, down 52.7 per cent.
Update: 16.10 (London time)
Britain's Dick Bove (Ian Gordon of Evolution Securities) reckons he's found the answer to the leadership vacuum at Lloyds:
Lloyds has stated that he is expected to be back at the helm within two months and so outgoing CFO Tim Tookey will act-up in the interim, ahead of his own departure at the end of February 2012. But what if, contrary to Lloyds' stated expectations, Antonio is not able to return to work for an extended period, or at all? Whereas it is tempting to suggest that this would leave a material power vacuum, we would suggest that a perfectly elegant solution is at hand. For all its problems, (which are many), Lloyds' strategic path for the next few years is already set. It doesn't need to hire an external "visionary" – it needs a proven executioner – that man is Mark Fisher, Director, Group Operations. He's already in the house.
Related link:
Lloyds chief to step back from helm – FT