Why, it's an investigation.
RTRS-DANISH FSA SAYS TO REPORT NORDEA BANK DENMARK TO POLICE IN CONNECTION WITH INVESTMENT ANALYSIS ON PANDORA

RTRS-DANISH FSA SAYS NORDEA BANK DENMARK FAILED TO INFORM ABOUT ITS FINANCIAL INTEREST IN PANDORA IN CONNECTION WITH AN INVESTMENT ANALYSIS
Along with Goldman Sachs, JPMorgan and Morgan Stanley, Nordea Bank served as a global co-ordinator and bookrunner for Pandora's IPO.
As readers may recall the flotation recently turned sour in spectacular style, with shares tanking by 70 per cent after the supposedly fast-growing LovePod maker warned revenues would in fact not grow at all in 2011.
We don't have any of Nordea research on the Danish jewellery maker to hand at the moment (but we are working on it).
However, we note Nordea has been a buyer for all of Pandora's existence as a listed company although analyst Dan Kirk Wejse did 'downgrade to buy from strong buy (target price DKr70 price)  in the wake of the profits warning…
… from which Pandora has yet to recover.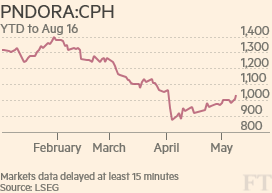 Update: 10.30am (London time)
Dan Kirk Wejse last notes on Pandora.
Update 16.17 (London time)
Latest from Reuters:
COPENHAGEN, Aug 16 (Reuters) – Danish financial market regulators said on Tuesday they would ask police to investigate Nordea Bank Denmark, a unit of Sweden's Nordea , for failing to report its financial interest in jewellery maker Pandora in an investment analysis.

The Financial Supervisory Authority (FSA) said Nordea had a significant financial interest in Pandora at the time of the analysis, which Nordea Corporate Finance had reviewed while aware of the financial interest.

"It is the FSA's evaluation that the general disclaimer does not sufficiently live up to the notice requirements regarding the announcement of significant financial interests," the FSA said in a statement.

Nordea's indirect ownership in Pandora was at the time 3.9 percent, the FSA said. Before the company was listed on the Copenhagen stock exchange, that stake was worth around 1.23 billion Danish crowns ($238.5 million), the FSA said.

"Nordea has taken note of the decision and the bank will in the future adjust its practice to fit the practices of the FSA," a Nordea spokesman told Reuters.
Related link:
Pandora shares leap on Copenhagen debut – FT