One thing French regulators can't ban (yet).
A poor GDP reading.
RTRS – FRENCH PRELIMINARY Q2 GDP 0.0 PCT Q/Q VS (FORECAST +0.3 PCT) VS UNREVISED 0.9 PCT IN Q1 – INSEE
And in further detail via INSEE:
Predictable response from the Elysee.
RTRS: French Finance Minister Francois Baroin said on Friday the government's targets for growth and deficit reduction were not being altered after data showed growth ground to a halt in the second quarter of 2011.

France's banks were among the soundest in the world, he added, in response to a fresh bout of financial market jitters that hit French financial shares particularly hard this week.

He welcomed a ban announced overnight on short-selling of financial shares and said investors
In fact, Baroin went further. He says the weak reading is not a surprise after the 'strong performance' in the previous quarter, and (according to Unicredit) a correction in domestic demand following the end of the government-sponsored car rebates — which had still lifted up private consumption in 1Q — was largely expected.
Whatever.
It's still not a very good reading and it's neither good for France's AAA rating nor for its banks, which are lower on Friday morning.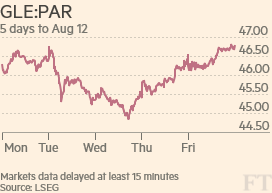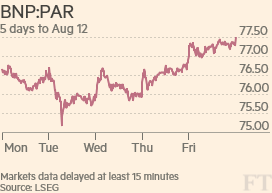 Next move? Ban selling.
Vive La Republique.
Reflections from Gary Jenkins of Evolution Securities:
On Tuesday we stated that "The government debt trajectory is currently helping to keep both the UK and France at the AAA level, but if we see any slippage in growth (or in cuts) that results in the debt / GDP rising then no doubt the rating agency will take a close look at these ratings. They appear to be OK for now, but… these sovereigns could be under pressure in 12 months' time." Whilst the rating agencies will give France time the fact is that with CDS widening to 165bps and the shares of Soc Gen now down 33.8% from the start of the month the market may not be so patient following the disappointing GDP figures released this morning. French GDP came in weaker than expected with economic activity flat on the quarter against expectations of a 0.3% increase. Year-on-year growth eased to 1.6% from 2.1% the previous quarter. French CPI was also weaker than expected with prices down 0.5% month-on-month and up 2.1% on the year.
Update: 09.04 (London time)
Bond market unperturbed by the GDP release. CDS prices to follow.
RTRS-FRENCH 10-YEAR GOVERNMENT BOND YIELD <FR10YT=TWEB> FALLS BELOW 3 PERCENT FOR FIRST TIME SINCE NOVEMBER

RTRS-EURO GOVT-French 10-yr yield below 3 pct, lowest since Nov.
CDS prices via Markit:
* Peripheral Sovereigns – Greece 1775bp (+21), Spain 377bp (+8), Portugal 865bp (-25), Italy 375bp (+6), Ireland 780bp (-18)

* Core Sovereigns – France 169 (+3), Germany 86bp (no chg), UK 89bp (+1) * US – 52bp (-4) No major movements are occurring with French banks this morning.

SocGen is currently trading at 326bp (-3) whilst BNP and Credit Agricole are current at 235bp (+1) and 251bp (-5) respectively.
Related links:
France will feel the impact of USAA+ – FT Alphaville
Vive La Republique! – FT Alphaville