… puts a rocket under your share price. To recap, Apple's third quarter results (published late on Tuesday) smashed expectation with both iPhone's and iPad's sales growing at an exceptional rate.
Apple sold 20.2m iPhone units during the quarter (expectations ranged from 17-19m) and 9.25m iPad units (expectations range from 7.5-8.0m).
And that's very good news for ARM, says Morgan Stanley.
Intel vs ARM race – ARM remains ahead, with Apple commenting that iPad2 demand is strong and cannibalizes Macs but even more Windows PC. In particular, Apple mentioned the education market where, where iPad demand outstripped Macs for the first time. Stronger than expected demand for the iPad2 might also imply that non-Apple tablets are struggling to find buyers.

Product transition – Apple highlighted to a product transition in iPhones in the September quarter potentially addressing the prepaid market. If Apple was to launch an iPhone with an A5 (same as the iPad2 but with a technology shrink), that would be a slight positive to ARM ASPs.
It's also a big positive for Imagination Technology, which designs graphic chips for Apple.
Numis Securities:
Clearly Apple continues to do exceptionally well with strong demand for its high end products despite a weaker macro economic environment. Emerging markets (Greater China, Brazil, Mexico, Middle East) were a key driver of outperformance where Apple has just started getting adopted. Other drivers were early strength in education with iPad and wider adoption of iPhone, iPad in Enterprise.
We estimate Apple represents c.40% of technology business revs for IMG. Upgrading royalty volume estimates to 345m (336m) in FY12E and 478m (458m) in FY13E to reflect higher Apple iPhone and iPad volumes. This drives 7 per cent upgrade to EPS in both FY12E and FY13E. Longer term if Apple cracks the TV market (which it appears to covet) there could be further upside. Upgrade to Hold from Reduce and TP to 400p from 350p.
But before anyone gets carried away, it's worth injecting a note of caution.
Apple, which was trading above $400 after hours in the US, might be taking market share and beating up its rivals but that tells us nothing about the underlying industry trends. And these are a cause for concern?
Morgan Stanley thinks so.
We would not rush to buy ARM at this level, ahead of growing inventories in the semiconductor industry (already at 92 days at the end of Q1, highest level recorded since 2000 barring the post-Lehman quarter).
Perhaps this evening's figures from Intel will give us a better idea of what demand is really like.
Update: 11.00am (London time).
As requested, Apple chart.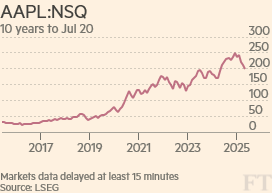 Related links:
iPad 2 lifts Apple above forecasts – FT
Apple: overdelivering again – FT