Once toxic, always toxic.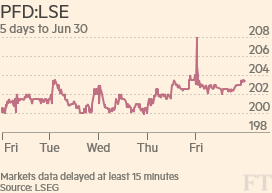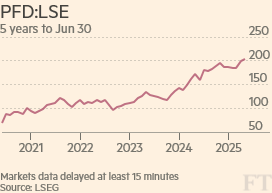 That's the price action in Premier Foods after Thursday's shock profits warning, which has effectively killed off any hopes of a turnaround at the heavily indebted maker of Hovis bread, Branston pickle and Mr Kipling cakes.
And it's a pity, because finance director Jim Smart had made real progress in clearing up the toxic waste left on Premier's balance sheet by its ill-timed acquisition of RHM.
Anyway, forecasts for trading profits are now being scaled back from £265m (on an underlying basis) to something closer to £200m, says Citigroup, which is shocked at the number of factors behind the profit warning.
Here's  a few (and no sniggering at the back please).
First there's rising commodity costs.
First, commodity costs increased by 14% year on year; equivalent to a £150m increase in costs in a full year. Although we have successfully repriced our products to reflect this, there was an inevitable time lag before the prices took effect, which led to a one-off cost of £15 million in Q1.
Then there's a "successful" repricing strategy.
In addition, as a direct result of our successful repricing exercise, one of our major customers delisted a significant number of our Grocery lines. This cost Premier Foods around £10m in Q2 but the issue has now been fully resolved and the affected lines have been relisted.
Followed by the weather.
Second, there was an unprecedented decline year on year in our markets, with both the Grocery and Bread markets falling by 5%, due to the depressed consumer environment exacerbated by unseasonably warm weather. The consequent decline in volumes reduced profit in both the Grocery and Hovis businesses.
And finally Marks & Spencer, which is losing its appetite for pies.
Third, Brookes Avana will record a £10m decline in profit year on year in the first half. This includes a £5m charge for restructuring at our Leicester site following the decision from Marks and Spencer to remove a significant pie contract in stages over the next year.
Now, this is all too much for some analysts to take. Clive Black at Shore Capital, for example, is furious.
Just as we thought, after several years of caution and concern on our behalf, that matters may have been bottoming out for the company, Premier Foods has produced one of the most surprising and disappointing updates for even this body battered venture – we have had ten downgrades from it since the questionable acquisition, to our minds, of RHM. In this respect, we feel sympathy for Jim Smart, CFO, who has done much to soothe some of our concerns on Premier in the last year or so. However, this update reignites old demons about the fundamental nature and state of this company. We will be downgrading our full year forecasts for 2011 and 2012, albeit we need to digest the shocking information provided in this update before we can confirm our numbers.

However, it was probably inevitable. Premier is being beaten up by its customers – the large food retailers – and it can do very little to fight back. That's not a good place to be when you are still burdened with £1.2bn of net debt.
One toxic, always toxic.
———-
Finally, big hat tip to Credit Suisse analyst Charlie Mills who correctly forecast today's profit warning.
Here's what Mills wrote on Wednesday.
Though Premier Foods shares are still cheap, we believe, the investment case is dependent on stability in trading. Unfortunately we don't yet see this. Furthermore we see any satisfactory refinancing of the debt in the current climate as unlikely. Accordingly we revert to Neutral. Our target price falls to 30p from 38p.

Company guidance is to make progress on last year's "Continuing operations" EBITA of £267m (i.e. excluding Canning). Consensus is £263m. We had £249m and now cut to £246m (3% off our earnings).

The refinancing of the debt was a part of our bull case in H2, but with the high-yield risk-appetite reduced we don't see this happening any time soon.
Ah yes, the junk bond. Refinancing that certainly won't be happening any time soon. It's back to the drawing board, Mr Smart.
Update: 17.01 (BST)
Oh dear. It never rains but it pours.
One biggest shareholders in Premier Foods — with an 11 per cent stake — is Paulson & Co.
First SiNO Forest and now Premier Foods.
Painful.
Related link:
Fresh horrors from the corporate finance lab – FT Alphaville