The price action in the euro on Thursday afternoon.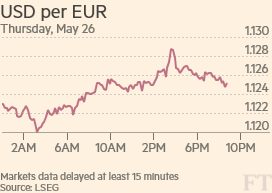 The reason for the sell-off is the Eurogroup's Jean-Claude Juncker who has just lobbed this hand grenade into the market place:
EUROGROUP'S JUNCKER SAYS IF PAYMENT OF IMF TRANCHE OF AID TO GREECE IN JUNE NOT BE OPERATIONALLY POSSIBLE, EUROPEANS EXPECTED BY IMF TO STEP IN.
Now, the IMF will only release the next tranche of its funding for Greece if the source of Greece's funding needs over the next twelve months is clear.
Which it isn't.
As we know Greece can't access the capital markets and it's still not clear if the EU will send another cheque. And that rather begs the question of what Juncker is up to? Why make these comments at this time? Why highlight the risk of default if the IMF stepped away and the Europeans don't fill the gap?
The answer says David Mackie of JPMorgan is that he wants to ratchet up the pressure on the Greek and Eurozone politicians:
It is not clear exactly why Juncker is making these comments at this time. By highlighting the difficulty of the rest of the region filling in the gap that would be left in the near term if the IMF stepped away, he seems to be emphasising default risk. Apparently policymakers in the rest of the region have not been impressed with the political debate in Greece, where the main opposition party continues to question the government's plans for fiscal austerity and asset sales.

Alternatively, Juncker may be trying to put pressure on other Euro area finance ministers to come to an agreement quickly on the terms of Greece's access to the EFSF next year. Policymakers are sensitive to the risks of reprofiling; they are really scared of the consequences of default.
As such, Mackie doesn't think Greece will be allowed to default in the coming weeks due to a failure to disburse funds under the current programme.
As he notes:
The easiest way to resolve this is for the Eurogroup to agree on the terms of Greece's access to the EFSF.
Easier said than done, though.
Related links:
Towards a Greek Treuhandanstalt – FT Alphaville