The London Stock Exchange does not have a great track record of consummating deals (remember the proposed Deutsche Borse transaction of the 2001?) or grabbing big strategic opportunities.
So will its's proposed merger with TMX Group, Canada's largest exchange company, go the way of Northern Foods/Greencore or British Airways/Iberia?
The first thing to say about this deal is it's not about growth – it looks very defensive. Perhaps an admission on the part of LSE boss Xavier Rolet that he hasn't been able to deal with the issues left by the previous management team, or with the fast pace of change in the exchanges world. Or perhaps its an admission that he needs more time to deal with these problems and a tie-up with the Candaians gives him that.
Sure, a combined LSE/TMX will be a bigger, more powerful listing venue (it will be the world's largest exchange by the number of companies traded) but it's not hugely compelling in terms of growth opportunities, according to Citigroup.
TMX businesses include Toronto Stock Exchange, TSX Venture Exchange, Montreal Exchange, Natural Gas Exchange, Boston Options Exchange (BOX), Shorcan, Equicom. BOX looks to be most compatible with LSE's previously stated growth strategy in derivatives, but we estimate it has only 3% market share in US Equity Options.
Furthermore, by merging with TMX, the self styled 'world's leading resources market',  the LSE is dramatically increasing its exposure to mining and oil stocks. We hardly need to say that some people think this is a dangerous bubble.
That said, there are potentially big revenue and cost savings to be extracted by bringing together the two exchanges — although there are well below those seen in recent deals, notes Olivetree Securities.
Cost synergies are expected to be CAD56mm per annum by end of year 2, some 9.7% of TMX sales. This should be compared with the 18% targeted when Euronext and NYSE merged, and the 17% when OMX and Nasdaq proposed a merger, both in 2007. Post-tax, the LSE share of these cost synergies could add as much 8% to the LSE shareprice today.
But importantly, they should be achievable even with a board of 15 and plans to maintain HQ's in London, Milan, Toronto, Montreal, Calgary and Vancouver.
At pixel time, shares in the LSE were trading 8 per cent higher at 964p.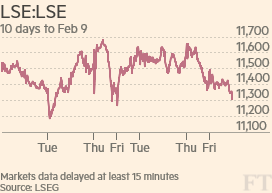 Less certain are the £100m revenue of synergies, which the LSE and TMX hope to extract within five years. To put that figure in perspective its equal to 16 per cent of LSE revenue, says Numis Securities.
Detail here is very limited with the only revenue synergies they specifically mention being facilitation of cross-listings and admissions for customers. We are very sceptical of this level of synergy being achieved without any real detail being provided. Should these synergies be achieved they would equate to a huge 56% of the underlying profit reported by the LSE last year. The LSE shareholders will own 55% of the combined group with the LSE contributing 66% of the combined profit. A clear strong Buy if you believe the £100m of revenue synergies can be achieved.
But they can they? We just don't know and today's share price action suggests the market is very sceptical. Only the cost savings are being factored in at this time.
So what are the chances of a counter-bid?
Certainly both the LSE and TMX are now in play. But it's difficult to see who might buy them. Most of the big Western exchanges would have regulatory issues buying either exchange, which means any interloper will have to come from Asia.
And the chances of that happening are slim, reckons Olivetree.
There will be talk of potential interlopers, but we think chances are slim, we are somewhat reliant on a conservative Asian entity making an aggressive move – one of the larger Western players would find it very tough to buy LSE from a regulatory perspective. This deal is likely to proceed as planned, and despite the synergies brought to LSE shareholders, there is a distinct value shift towards TMX shareholders – reflecting the need the LSE has shown for some time to do a meaningful sized deal.
"The need to do a meaningful sized deal".
Ah… that brings us all the way back to the legacy of Dame Clara Furse, who failed to buy Liffe and then failed to sell the LSE to either OMX or Nasdaq.
Update: 09:51am (GMT).
There is quite a large short position in LSE. According to Data Explorers 12.7 per cent of share capital is on loan. Based on average daily volume that would take 63 days to cover! Utilisation – the amount of stock available to borrow out on loan – is 21 per cent.
Update: 10:02am (GMT).
We forgot to add a line about regulatory clearance, something the wires have made a lot of following the BHP/Potash debacle.
The message is don't worry say Olivetree:
From a regulatory perspective, this transaction will require approval from 66% of TMX shareholders, from 50% of LSE shareholders and also will need to be approved under the Investment Canada Act. Unlike recent precedents, the latter should be a formality given the Canadian identity is being preserved (through listing and headquarters). It will also need FSA and US approvals. It is expected that the shareholder meetings will take place in Q2 2011, with the transaction closing in H2.
Related links:
LSE and Canada's TMX agree merger – FT
LSE hopes TMX will turn its transatlantic vision into reality – FT
Quick View: Why the LSE and TMX are getting together – FT Trading Room