Introducing the Macondo 'Costometer' from Citigroup.
Unfortunately you can't manipulate the data, but it could be used as the basis for a spreadsheet.
Have fun!
Notes
Citi reckons the clear water fines are particularly difficult to forecast because the Environmental Protection Agency has a certain amount of discretion and we still don't know how much oil has been spewing out of the ruptured well in the Gulf of Mexico:
As far as clean water fines are concerned, we are in new territory since the largest fine the EPA has handed out to date was $34m to Colonial Pipelines in 2003. The often-quoted penalty range is $1,100-4,300 per barrel spilled. However, the EPA has a certain amount of discretion around this range and the Colonial Pipelines fine was below $1,000/barrel. In our 'Costometer', we have assumed BP is penalised at c$3,500 per barrel spilled.
And if you want to assess BP's ability to pay for its liabilities, Citi has also produced a handy cashflow table. (Click to enlarge).
Citi says this shows BP should be able to reinstate dividends next year as long as the political climate is right (and the relief well works):
BP's cash position remains robust and we believe they will be in a position to reinstate dividends early next year, as long as the political climate is right. Including the $20bn Independent Claims Fund that BP has agreed to bankroll, we assume that BP faces $8.5bn of post tax cash disbursements this year, c$10bn in 2011 and 2012, and $8bn 2013. The pace of damages and penalties remains uncertain, but we assume that 75% of our assumed $38bn cash calls are made in the first two years. BP's cashflow profile remains robust and after spending a planned ($18bn) of capital investment next year, we would still expect excess free cashflow of $13.5bn.
Although cashflow estimates will need to be adjusted for disposals:
BP said it also expects to dispose of around $10bn of non-core assets, focused on the upstream. Likely candidates would be Pan America Energy (BP's 60%- owned Argentinean affiliate), Venezuelan and Alaskan assets and BP's c$1bn stake in Rosneft. We have not modeled disposals in our cashflow forecast but neither have we reduced our production and earnings forecasts to reflect portfolio sales.
—–
Meanwhile, on knife watch…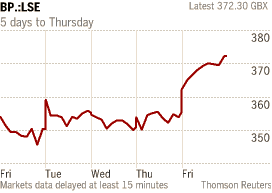 BP shares marking time as the market waits to discover if the new containment cap can be closed off for tests, and what those tests might say about the well's integrity:
From the Washington Post:
A new piece of equipment designed to control the gushing Gulf of Mexico oil well sprung its own leak Wednesday night, the latest setback to BP's efforts to put an end to the environmental disaster.

BP said that the leak in what is known as the choke line could be repaired and that its effort to close the damaged well, and shut down the flow of oil permanently, would resume.

But video streams from the seafloor showed a chaotic plume of oil and gas continuing to surge from one of the outlets on the 75-ton cap installed earlier this week.
Related links:
Another day, another delay – Energy Source