Tuesday's annual results from Barclays were good.
But were they really good enough to justify this?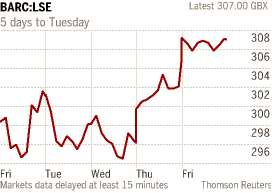 We ask the question not out of spite (perish the thought) but because there is a large short position in Barclays stock, as the below chart from Data Explorers illustrates:
On top of that, the latest Merrill Lynch Fund Manager survey shows money managers are massively underweight banks.
From the survey:
February saw a huge shift out of Banks by investors, as the sector lost 37 points of popularity – the biggest one-month drop ever recorded for the sector.

Once again, Banks are the least-liked sector in Europe, with a net 53% of investors now underweight. This is the most negative investors have been on Banks since the market low in March 2009, which was also the low point in the sector's share price performance. Incidentally, this is also the largest conviction underweight position we have seen for any sector in seven months, as sector conviction has generally been subdued recently. Together, these readings do suggest an overshoot in negativity towards the Banks sector.
So, it may well be that Tuesday's rise in the Barclays share price — as well as similar increases in the stocks of other banks — is nothing more than a short squeeze and a panic by fund managers to increase their weightings.
—
Elsewhere, Credit Suisse's Jonathan Pierce has been picking over the Barclays results statement. For Pierce, six things stand out:
1. "Underlying" PBT about 5% ahead of market expectations;
2. Barclays Capital Q4 revenue flat on Q3, costs markedly down;
3. Equity tier 1 ratio 10.5% including warrants, 90bps above our estimates;
4. Liquidity pool now £127bn o/w 85% is cash and Government bonds;
5. Q4 DPS increased to 1.5p;
6. Impairment charge to fall "moderately" in 2010 according to Barclays.
Of particular interest is point 3:
3. Equity tier 1 ratio 10.5% including warrants The equity tier 1 ratio was about 90bps ahead of our estimates. Part of this relates to a better profit performance, but we believe up to a half relates to a decision to apply the capital deductions approach to certain securitisation exposures, contributing to a decline in RWA of 6% in H2 2009 to £383bn. Management had guided to a small increase in RWA at the IMS stage. We don't know the precise impact of the change in treatment, but we point investors to disclosure showing an increase in tier 1 and tier 2 securitisation deductions of £2.6bn which, if treated on the RWA approach, would have resulted in a £33bn increase in RWA in H2 2009. Put another way, we believe the RWA improvement in H2 2009 was partly presentational.
Conclusion
This is a good set of numbers from Barclays that should reassure the market on several fronts. Consensus might also rise modestly reflecting lower impairment charges. However, we believe that the full year impact of higher liquidity costs (£650m in 2009) and the rollover of the structural hedge justifies some tempering of enthusiasm. Our own numbers include a further £1.5bn of credit market writedowns in 2010 and this is likely too high, but we expect to adjust our 2011 forecasts only relatviely modestly. In summary, while we remain less enthusiastic than many commentators, the relative operational and valuation metrics make Barclays a clear relative preference among the UK domestic banks, in our view.
So there you have it. Consensus forecasts might rise, but only moderately and not — by the looks of things — enough to justify a 7 per cent move in Barclays' share price.
Update: The top twenty short positions in the FTSE 100 from Data Explorers.
And looking at the rest of the list, it seems that 7 per cent is well above average.
Related links:
Barclays beats – FT Alphaville
Solving CLOs at Barclays – FT Alphaville
Barclays profits almost double to £11.6bn – FT