What Protium — Barclays $12bn credit asset sale — cannot achieve, reclassification can.
Out today — Barclays 2009 results.
Stuff held in Protium shown in the below table:
Barclays' horrendous exposure to ailing monoline insurers is well known by now, as is the fact that the bank has been trying to rid itself of its structured finance mess for some time.
In its November-released third-quarter results, for instance, Barclays had said it managed to get rid of about £8.06bn of sketchy structured finance exposure. Crucially though, there was one category that proved difficult to shift — monoline-wrapped collateralised loan obligations (CLOs).
By November, the bank had managed to reduce net monoline-wrapped CLO exposure by £1,697m, but just £396m of that decrease was down to Protium. That's in contrast to say, monoline-wrapped US RMBS, where net exposure was reduced by £1,632m, of which £1,164m related to Protium.
Monoline-wrapped CLOs seemed harder to sell into Protium for some reason.
What to do?
From Tuesday's statement:
On 25th November 2009 the Group reclassified certain financial assets, originally classified as held for trading that were deemed to be no longer held for trading purposes, and thus considered as loans and receivables. The reclassified assets comprised Collateralised Loan Obligations (CLOs) against which the Group held credit protection with monoline counterparties rated below investment grade.

As at the 25th November the assets had a carrying value of £8,027m. The effective interest rates on these assets ranged from 0.50% to 2.99%, with undiscounted interest and principal cash flows of £8,769m.

In the period prior to reclassification, £1,500m of fair value gains were recognised in the consolidated income statement. Since the 25th November, paydowns and maturities of £26m along with foreign exchange movements on the assets and accrued interest resulted in a carrying value as at 31st December 2009 of £8,099m.

The carrying value of the securities reclassified during 2008 into loans and receivables has decreased from £3,986m to £1,279m primarily as a result of paydowns and maturities of the underlying securities of £2,733m. No impairment has been identified on these securities.
And the table:

And the kicker:
If the reclassifications had not been made, the Group's income statement for 2009 would have included net losses on the reclassified trading assets of £49m (2008: £2m).

After reclassification, the reclassified financial assets contributed £192m (2008: £4m) to interest income.
Monoline-wrapped CLOs solved! And boy does the market love it (amongst other things).
Barclays is up 9 per cent in early Tuesday trading: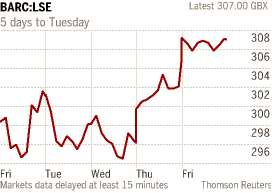 Related links:
Barclays' Protium-purified balance sheet – FT Alphaville
'Curious' case of Barclays asset sale – FT
Is it a SIV, is it a fund, or is it just accounting arbitrage at Barclays?– FT Alphaville
The ongoing structured finance mess at Barclays – FT Alphaville