For reasons that weren't immediately clear (to us anyway), the FTSE 100 took a bath on Tuesday morning, falling below 5,000 and breaking its 50-day moving average. European bourses have also fallen sharply.
Hence we are reaching for some protective headgear.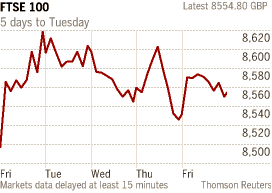 FTSE moving averages (click to enlarge):
Volatility has also spiked, as shown by the VSTOXX (click to enlarge).
And according to Divyang Shah, strategist at Thomson Reuters, this correction is unlike any we have seen since the rally started in March:
Last week the post-GDP rally fizzled out leading to a very negative close on Friday. The post-ISM inspired rally has also seen a loss of its fizz too with the modest decline on the VIX overnight suggesting that the bias still remains toward de-risking. To what extent month-end and the FOMC meeting played into this is difficult to distinguish. The current correction is unlike other corrections we have seen since the rally began in March both by the extent to which the VIX has risen recently as well as the extent to which volatility itself has been volatile. But it's not just the equity markets that are seeing a turnaround there has also been a de-risking on the USD-shorts with the AUD in particular coming under pressure as longs look to take risk off the table.

Re-risking phases seem not to be finding strong participation and instead are being used to take risk off the table. This suggests that we have not yet seen the end of the correction. The bond markets will remain supported by what is happening with risk markets but it seems that it will take a further correction on risk to see gilts or bunds make an attempt at their recent highs.
Related links:
Skittish, or what? Friday's bath on Wall St – FT Alphaville
The S&P is heading for 800 – FT Alphaville