So, how will Lloyds Banking Group raise the vast dollop of capital it needs to withdraw completely from the government's asset protection scheme?
The UK media are in agreement that most of the money will come from another rights issue.
From Thursday's FT:
Lloyds Banking Group and its advisers have begun sounding out investors about a £15bn capital raising, a move they believe could allow the bank to withdraw entirely from the government-sponsored asset protection scheme.  The transaction, if successful, would constitute the biggest ever British rights issue, beating the £12.5bn raised by HSBC in the spring.
Sky News, which broke the story on Wednesday night, reckons disposals and other more complicated measures will also play a part:
What's happened is that Lloyds (which wants to extricate itself from the Asset Protection Scheme (APS) to avoid the Government's stake in the bank creeping higher and paying the fees associated with the scheme) has decided that it can raise up to £25bn from private sources (such as asset sales, a rights issue of well over £10bn, and other, more complicated measures).
The Daily Telegraph takes this to mean a conversion of hybrid debt instruments into common equity or mandatory convertible notes, an idea that has also been bounced around by analysts in recent days. From the Telegraph:

Lloyds has proposed raising the funds through a rights issue of up to £10bn and a rearrangement of its capital base. It has £7bn of preference shares and £11bn of other hybrid tier one and tier two debt instruments. By converting those into core tier one capital, the new regulatory benchmark, the bank could strengthen its finances by as much as £18bn.

Regulators and bankers are working on a new mandatory convertible note (MCN) that switches to common equity when a bank's capital buffer falls below a pre-arranged level.  Lloyds hopes to persuade preference shareholders and other bondholders to switch into these so-called "death spiral convertibles" or even straight equity.

To convince holders to make the jump, Lloyds will scrap interest payments on the instruments, making them uneconomic. The new convertibles will carry a coupon.
For the record, Lloyds had £4.9bn of preference shares, £6.8bn of preferred securities and £3.8bn undated subordinated debt (i.e. Tier 2) at the end of June.
Of course, the big question in all of this is whether Lloyds can find the backing for a £15bn rights issue.
Simon Pilkingon, the banking analyst at Cazenove, says the plan appears to be that the the government will take up its rights:
The government would subscribe for its entitlement of £6.5bn (43.4%) leaving investors to buy £8.5bn, obviously a still substantial sum at around two thirds the size of the record £12.5bn HSBC rights issue.
Indeed, the FT makes the same point in today's front page story:
The government, which owns a 43.5 per cent stake in Lloyds, is understood to be supportive and would be likely to subscribe to the rights issue meaning it could inject up to a further £6.5bn of public funds. One person close to the affair said the bank was due to present a detailed plan to Alistair Darling, the chancellor, in the coming days.
Quite why the government would want to do this is immediately not clear, although some analysts have already argued that the scheme is inefficient, and have questioned why the taxpayer should underwrite £200bn of toxic assets when there is a private sector alternative.
But, let's assume for the moment it does. Obviously, £8.5bn is a substantial sum. Yet, as we have noted several times, UK investors don't seem to have a problem backing cash calls from even the most troubled of companies. And those who backed the last fund raising at Lloyds have not done too badly.
That said, shares in Lloyds are now on the slide.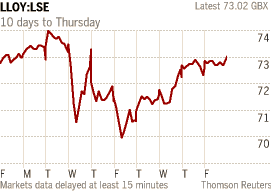 Update:
The thoughts of Credit Suisse's  Jonathan Pierce.
In totality then, we believe it is feasible that LBG could raise £25bn through, for example, £10bn of asset sales and liability management, and a £15bn rights issue with UKFI subscribing to just over £6bn of that. But execution risk is likely to determine whether this is allowed.

If they do manage to escape the grips of APS on the basis described, we think the share count of LBG would increase to over 50bn versus 41bn on the current plan (this does not take account of any rights issue discount, which will wash through in valuation terms via additional subscriptions to holders). On that basis 2013E normalised EPS would be diluted from our 12p forecast to 10p. However, the tangible NAV in 2013 would rise to around 110p from our current forecast of 80p, a function of the lack of APS fee payments (net of APS payouts) and B share coupons. In itself, this wouldn't lead us to substantially change our view on the company. The big question, then, would be how the EC responds to a reduced level of state-aid.

Overall, we still think that LBG will struggle to escape APS altogether, with a marked reduction in participation most likely. But it is increasingly difficult to analyse this bank right now and hence we stand by recent comments – that watching this evolve from the sidelines is probably sensible. 
Related links:
Critical time looms for Lloyds and RBS – FT
Lloyds as leverage leader? – FT Alphaville
Lloyds out of the frying pan and out of the APS? – FT Alphaville